Knitting, But Mostly Spoiled Pets
Since I'm currently wearing the absolutely finished

Ireland Cardigan

(WOOOO HOOOOO! HAPPY DANCE!!!!!!!!), I was TOTALLY justified in starting a new sweater. With new yarn. Again, there was a tragic accident at Knit Happens involving my credit card and 11 balls of Debbie Bliss' Cashmerino Astrakan. Luckily, no one was injured - but, unfortunately, I absolutely HAD to take the yarn home with me.

It wanted to grow up to be the Shawl Collared Cardi from

Simply Soft.

So far, I have a sleeve and a bit. It's exciting.




Strangely, a previous credit card related accident at the Shop resulted in the purchasing of one of these fabulous lined baskets from Lantern Moon -

I'm sorry. Did I say "lined basket?" Clearly, I meant "cat toy."




Ooo - sparkly dangly ball. I'll try to rip it off.




I can TOTALLY fit in here. Sure, it's a bit of a tight fit, but obviously, she brought this home for me to sit in, and I hate to disappoint.
Would it have killed her to have gotten a slightly larger basket? Hmmm... maybe time to switch to the "kitty food light."
Screw the basket - I'm sleeping on the Cormo. AND the Debbie Bliss Cashmerino Chunky.


When I wasn't providing Cricket with new and exciting places to sleep, I took Abby on a field trip to the Happy Place - where she got to say hi to both Shanti and Wendy. As you can see, she HATES spending time at Knit Happens because she doesn't get ANY attention.


Labels: Abby, Astrakan Cardigan, Cricket
0 comments
||
#
---
Choir Concert
It's that time of year again (already) -

another FMMC Chorale Concert this weekend!


Saturday, February 25, 2006 at 4:00 P.M. at the First Baptist Church the First Baptist Church of Washington, D.C.

Sunday, February 26, 2006 at 5:00 P.M. at the Bradley Hills Presbyterian Church in Bethesda, Maryland.
Works:
Mozart:


Missa in C "Coronation Mass," K. 317
"Regina Coeli," K. 276
Haydn:


"Missa Brevis Sancti Joannis de Deo (Little Organ Mass)" in B-flat Major, H. 22:7.

Labels: FMMC



0 comments || #


---
A Little Help, Please?
Although the temps were in the 60s yesterday, less than a week ago, we had snow. A LOT of snow. It was so beautiful, that I got up at 7 am on a Sunday just to take pictures and enjoy the snow before everyone messed it up by walking in it.

And, coincidentally, I got another little lesson in the differences between dogs and cats.

Cricket's response to the snow? "Ew. Cold. Wet. Back to bed."




Abby's response to the snow? "OOOOOOOO! COLD! WET! OOOOOOOOOOOO! Let's go run in it! And dig in it! Yippie!!!"




I must admit - for most of the day, I sided with Cricket on that one, and enjoyed the snowy day from inside the nice warm house. Since I wasn't going anywhere anyway, I decided it would be a good time to install the zipper in the

Ireland Cardi

.

First, I laid it out on the table, using my little green cutting board to separate the back from the front so I didn't accidentally sew the wrong thing.




Cricket, hearing the siren song of the Cormo, quickly made an appearance.



Round 1: Cricket (1), Maeve (0).






After a few difficulties in the "cat removal department," I basted the front edges closed with contrasting yarn (leftover sock yarn, in this case.)




Then, I flipped the sweater inside out and pinned in the zipper.




At this point, I cleverly distracted the Great Cormo Hunter with the ball of leftover sock yarn. Much gleeful unravelling of the yarn-ball ensued.



Round 2: Cricket (1), Maeve (1).






This momentary repreive from the Great Black Blob allowed me to baste in the zipper with contrasting thread.




This, however, was about as far as I got.



Side view:




aerial photography supplied by Goodyear...


Yeah - it was clearly time to give it up.

Round 3: Cricket (2), Maeve (1).

Victory, Cricket!






So I kept working on my

Forest Socks

- and managed to finish them at some point this week. Details to come - but you know the basics. Toe-ups, 60 sts, garter stitch rib, size 0 addi's. You know, the usual.




But there isn't much that's usual about the new socks - they are "put on your sunglasses and avoid staring directly at them" kinda bright. They're the ubiquitous jaywalkers - with hot pink, bright orange, and bright yellow, on 60 sts with size 0 addi's. The pink and orange yarns are from the same ebay seller as the forest yarn.

I cannot adequately describe how happy these socks make me... so much so, that since I took this picture on Wednesday, I'm almost done with the first sock.




And speaking of new friends - Abby met Paul at Knit Happens on Wednesday.... they played ball, and Abby gave Paul lots of kisses. :)




K - I'm off to watch last night's olympics. Yes, I've already fallen behind - but just by 1 day. I'm hoping to keep it that way... luckily, there aren't nearly as many winter events, so hopefully I won't still be watching the olympics in may. I just wish I had cable so I could watch curling....

I'm definitely in the running for "Gigantic-ist Olympics Dork."

Labels: Abby, Cricket, Ireland Cardigan, Socks



0 comments || #


---
A Real Update
Despite all of the recent excitement, there is still knitting going on! Sure, it's only a sock, because, well, there are limits to how much one's brain can handle. But it is knitting nonetheless -

These are the

Forest Socks

, using a garter stitch rib pattern, in sock yarn from ebay seller

lotusblossom

. This yarn was FUGLY in the skein - too much bright yellow/green. But knit up, the browns really come out, and the whole thing looks amazing! Just goes to show you that you have to knit with it before judging it. ;)




Ummm... those of you who are trying to (for some unknown reason) NOT buy yarn may want to skip this next picture. But it wasn't really my fault - first, Stephanie bought some, so she started it. And then the colors were so pretty, and I was just going to look at them, when, in a bizarre accident, the yarn and my credit card flew towards the cash register, and suddenly I owned the yarn!

But isn't it purty? It's Cherry Tree Supersock yarn in Serengeti. I lurve it. :)




Plus, I was justified in buying more yarn because I have two

finished objects

!! :)






Multi-Directional Scarf





Pattern:

the multidirectional scarf from Magknits



Yarn:

Hipknits 100% cashmere sock yarn on size 5 needles.



Notes:

Um, well, the length is a bit, um, extreme. My plan was to keep knitting until I ran out of yarn - and it totally worked, since I ended with about 10 yards or so extra. But things got a little out-of-control.




Even held double, it's a bit on the long side - just for scale, I'm 5' 7".




But because it's so skinny and loosely knit, it works GREAT when worn - see?




and finished object number 2:

Ireland Cardi

Pattern: my own



Yarn:

100% Cormo Worsted from MDS&W



Notes:

I still need to install a zipper... but words can't quite express how happy I am with this sweater. I proved to myself that I can successfully plan all the raglan and neck shaping - and come up with a sweater that fits me the way I want it to. This sweater was definitely a challenge, but I took it one step at a time and took the time to do everything properly - and it shows!



hint - the fair isle is a shop sample!




front views
back


And despite the crazy amounts of snow they're predicting for the Washington area this weekend, the spring yarns are arriving at the shop - and apparently, they put a little "crazy" in the boxes with the yarn!




And speaking of crazy - is it normal that one of Abby's favorite treats is a CARROT?


Labels: Abby, Ireland Cardigan, Multi-Directional Scarves, Socks
0 comments
||
#
---
Freakin' Nuts
Real update coming. Been busy. See?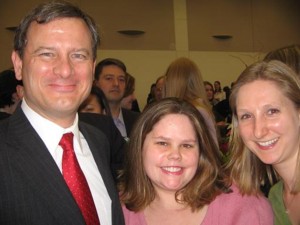 Yeah... that's me, my friend Kati, and the FREAKING CHIEF JUSTICE OF THE FREAKING UNITED STATES.

Labels: Random



0 comments || #


---
New Title
Editor-in-Chief
International Law Review
George Washington University Law School



nice ring to it, eh?



:)

Labels: Random



0 comments || #


---
---